Glass fiber needle felt is a high temperature resistant filter material with reasonable structure and good performance. It not only has the advantages of high temperature resistance, corrosion resistance, dimensional stability, extremely small elongation and contraction rate and high strength, and the felt fiber is single fiber, three-dimensional microporous structure, high porosity and low resistance to gas filtration. It is a high-speed, high-efficiency high-temperature filter material. Compared with other high temperature resistant fiber felts, it has special advantages such as low price and high temperature resistance. However, its running resistance is higher than that of general chemical fiber high-temperature filter materials, and the filtration precision is slightly lower.
Application: Glass fiber needle felt can be widely used in high temperature flue gas filtration of various industrial furnaces such as chemical industry, steel, metallurgy, carbon black, power generation and cement. It is suitable for various bag filters such as pulse cleaning and high-speed blowback cleaning.
model

Conventional matte

Single-sided lamination

Gram

800

900

Air permeability (L/ m2 /S)

200 to 300

200 to 300

Breaking strength (N/5×20cm)

through

>1850

>1800

latitude

>1600

>1800

Elongation at break ( % )

through

<10

<10

latitude

<10

<10

Breaking tension (Mpa/min)

3.1

3.0

Working temperature ( °C )

260~300

260~300

Acid resistance

excellent

excellent

Alkali resistance

good

good

Wear resistance

difference

difference

Hydrolytic stability

good

good

Post processing

PTFE impregnation, shaping

Laminating, shaping
---
Continuous glass fiber filter cloth
Glass fiber is an inorganic fiber whose main component is SiO2. It is obtained by melting the glass frit at a temperature of 1300 to 1600 ° C, spinning from a molten state and rapidly quenching. The specific gravity is 2.54 g/cm3, and the tensile strength of the raw yarn is 160 to 275 kg/m2. The filter material is generally made of C glass (ie, medium alkali glass or calcium soda lime silicate glass) and E glass (ie, alkali-free glass or aluminoborosilicate glass).

At present, the glass fiber used in the production of filter cloth in China mainly uses 80 alkali-free, 45 medium alkali and 40 alkali-free, and the single fiber diameters are 6μ, 7.5μ and 8μ, respectively.

The most practical advantages of glass fiber are high temperature resistance, good dimensional stability and high tensile strength at break. In terms of chemical resistance, glass fiber is stable to other media except hydrofluoric acid and high temperature alkali.
The disadvantage of glass fiber is that the folding resistance is poor, and post-treatment such as PTFE impregnation is required to improve the performance. The fiberglass is not resistant to folding, the fabric filter material is low-pressure anti-blowing, and the needle felt is pulsed. The glass fiber expanded filter cloth with a square weight of more than 700 grams can be cleaned by rotary backflushing or low pressure pulse blowing.

The glass fiber bag is recommended to filter the wind speed:
| | |
| --- | --- |
| Filter type | Applicable filter wind speed (m/min) |
| Continuous glass fiber filter cloth | 0.3----0.6 |
| Glass fiber expanded yarn filter cloth | 0.4----0.8 |
| Glass fiber needle felt filter material | 0.7----1.0 |
Continuous glass fiber filter cloth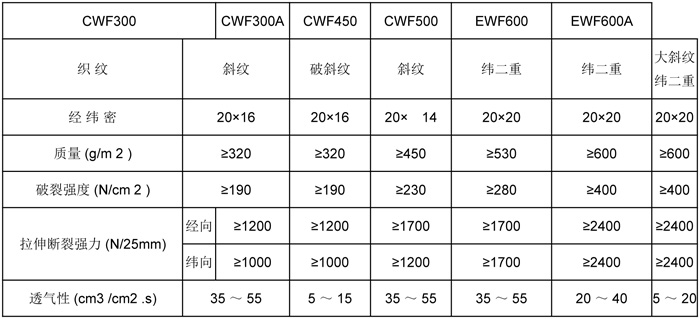 ---
Glass fiber expanded yarn filter cloth
The glass fiber expanded yarn filter cloth is a new type of fabric developed on the basis of continuous glass fiber flat filter cloth. The difference from the continuous glass fiber filter cloth is that the weft yarn is composed of all or part of the puffed yarn, because the yarn is fluffy. The utility model has the advantages of strong covering ability and good gas permeability, thereby improving the filtration efficiency, reducing the filtration resistance, and the dust removal efficiency is high, and the filtration speed is 0.6 to 0.8 m/sec.
---
Glass fiber PTFE coated filter cloth

fiber

glass fiber

warp

75 1/2

weft

75 2/2

Post processing

PTFE coating, film

Gram

22.0 oz/yd2
750 gm/m2

Weaving method

Double line

Fabric density

48 x 40 ( by x latitude )

Air permeability

7.5 cfm/ft2 @ 0.5" wg
3.8 (m3/min/m2 @ 20 mm wg)

Operating temperature

500ºF
260ºC

Bursting strength

800 psi ( minimum average )
5516 kPa

Warp breaking strength

350 Lbf/1" ( minimum average )
1555 N/2.54 cm ravel

Weft breaking strength

350 Lbf/1" ravel ( minimum average )

1555 N/2.54 cm ravel